Latest 60 Second Angler Videos
Click here to view
our complete video library.
PLEASE NOTE:
To view these videos you need to have Macromedia Flash Player 7 installed. If you do not have Macromedia Flash 7 already installed,
click here to download it
.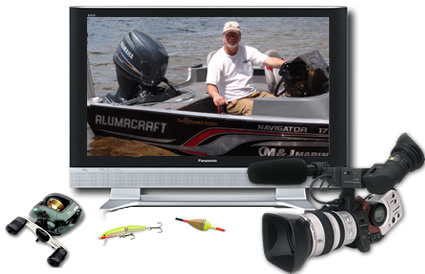 Welcome To The 60 Second Angler...
I've spent many years watching the television side of fishing develop. With 16 years of TV experience behind me I thought there was something missing. A lot of programs try to squeeze some knowledge into the show so you go away with something after you watch. Some make it, most don't.
That's where the 60-Second Angler comes in. I've compiled quite of list of useful information ranging from boats to bait.
We'll explore the differences in batteries, how to "work" a sport show, how to choose the right rod, reel or line for your style of fishing and much more. It's all neatly packaged in a 60-second program that's been growing in popularity over the last several years.
Beginning with Charter Cable, expanding to
The Sportsman Channel
and growing the list of network affiliates the 60-Second Angler is now in front of more than six million people! Add this Website and it's an international adventure! Here you'll find the videos, neatly packaged by the guys at
Lake-Link.com
for your use. I invite you to watch and
keep in contact
with suggestions for future shows.