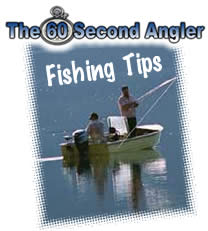 60 Second Angler Tips
Below are some tips to help make your time on the water more ejoyable.
Do you have a tip you'd like to share? Just
send it to me
. Include your name or initials and where you live, too (city/state). Knowing where you all are helps me produce the programs. Thanks!
CATCH AND RELEASE
I'm a strong advocate of CPR…catch…photograph…release, especially for trophy-sized fish. I have a rule in my boat once that fish is out of the water. As soon as it leaves the net you take a breath and hold it. When you're out of air, so is the fish and it goes back in the water.
DON'T FORGET THE SUNSCREEN
Just because it's hazy or overcast doesn't mean you can ignore the sun. The water acts as a giant mirror, reflecting anything and everything all over us when we're out there. A little protection goes a long way when it comes to sunscreen…and put a lot on too. Studies have shown we don't use enough of the stuff to really utilize the stated SPF rating, so lather up even when the sun isn't shining all that bright.
DONATE THE STUFF!
In this economy we can all use some extra bucks. But sometimes a little goodwill goes even further. Instead of dumping unwanted fishing gear at the neighborhood rummage sale, donate it to a local school or fishing club. I had the opportunity to see the look on the faces of kids at a local camp as they raced to the water to try their "new" gear. It does the heart good.
KEEP THE "GOOD" CAMERA HOME
I've literally taken thousands of pictures and miles of videotape in my career and caring for a camera makes sure that special moment is captured. But you can run into trouble with today's digital gear. First of all, they're nowhere near waterproof or even water resistant. Now, you can get them that way but most of us don't because they're pricier. We think we're "waterproofing" them by keeping them wrapped up in a plastic bag in the boat. WRONG! That bag will collect moisture and bake the innards of that camera in a hurry. There's no way to fix it either. An inexpensive digital camera in the 2-3 mega pixel range will do just fine. A simple padded case will protect it and as long as you don't get it drenched, you'll get years of use.
RESPECT THE WATER
Just recently I was on a favorite lake of mine and took too much for granted. We're down several inches in the rain department and the lake was down as well. Although it is well buoyed, I didn't take into enough consideration what those differing water levels meant and POW! Now I have a nice little chunk taken out of the skeg on my outboard by a rock that wasn't supposed to be there. That same day I also whacked the trolling motor and snipped the cable off my sonar transducer. Not a great day and it taught a "veteran" an expensive lesson.
KEEP THOSE HOOKS SHARP
Just because you buy that popular new lure doesn't mean it doesn't need a little tweaking. I sell thousands of the things every year and always recommend taking a file to the hooks, especially the pre-packaged, mass-produced varieties. Most of the muskie lures available today are already pretty pointy and I have the holes in my fingers to prove it. That's because much smaller companies or even a guy working out of his garage with much more quality control usually make these. Anyway, it only takes seconds to run a file or battery operated sharpener across a hook point. It can make or break your fishing that day.
GET THE NET!
I think every angler has said this at least once in his or her life. Will YOU be ready? Having the right net for the species of fish you're after can mean the difference between a photo and only a story. I had a guy near tears tell me about the "huge" muskie on his son's rod that got off after he struck the fish with a small bass net. Like most things in fishing, being prepared for what you're after will make or break a trip. Take Frabill nets for example (a great Wisconsin company, by the way). You've got your basic, everyday (inexpensive) green nylon nets for stuff off the dock or with the kids in the boat…up to the Big Kahuna for 60" muskies. Just visit www.frabill.com for more information, you'll learn a lot!
CHECK YOUR LINE
Despite the enormous availability of braided and/or superlines, I fish with monofilament most of the time. Like most things, mono has its good and bad points. One of the "bad" ones is wear. To combat that, especially if you're fishing through weeds or across rock bars and wood, check the condition of the line once in a while. If you feel a nick or two, cut it off and re-tie. This will not only save your lures but possibly aid in landing whatever bites it too!
THE MOST VALUABLE TOOL IN YOUR BOAT
It's not the most expensive rod or reel…even the fancy electronics or baits. It's a simple map and knowing how to read it and use it can really turn your day of fishing around. To be successful in the sport you need to plan ahead. Knowing what species of fish you're after, what areas they relate to in the water and what the weather is going to do gives you a game plan. You can identify potential areas to fish on the map and effectively eliminate water. This way you're not running around the water saying, "this looks like a good place." Usually they're not. Having that plan will save you tons of time and get you on fish faster.